Watch Video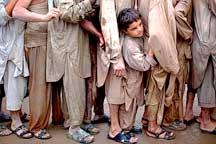 Play Video
Almost three months since the devastating floods in Pakistan, thousands are still in need of proper assistance and relief.
Many, who lost their homes, await help from the government and other aid agencies. Our correspondent Danial Khan traveled to one of the worst hit areas and looks at how relief activities are progressing and how people are coping with the tragedy.
The raging flood waters have finally receded after destroying the livelihood of millions of people and claiming over 1600 lives. Where many have lost complete hope, this eighty five year old man is setting an example for the residents of Metha Khel village. Saif-ur-Rahman lost everything in the floods. His home, his land but the biggest loss came in the form of his wife and two sons.
After recovering, he took the responsibility of gathering the villagers and started a self-help rehabilitation process.
Saif-ur-rahman, Flood survivor, said, "Four hundred and fifty out of seven hundred homes were destroyed in the floods in my village. We are rebuilding homes, clearing drainage pipes. We are also encouraging women to become self-sufficient."
The World Food Program is also encouraging the people to rebuild their lives, and in return they are being provided with food and medical care, the initiative is called "Food for Work".
Wolfgang Herbinger, World Food Program, said, "I am quite satisfied with the work that the United Nations is doing,we set targets and meet those targets. We have assisted more than 2million people. Yes, more aid is needed, but making these people self-sufficient is our top priority. Our need is 2 billion dollars."
But where things are going smoothly, the young feel frustrated, as many educational institutions are still closed and now they are forced to work in the fields.
Ali Khan, Student, said, "I have not gone to school since two months, my parents say my one year has been wasted, the work is taking place in slow pace. I miss my studies, I plan to become an engineer."
Experts say that the whole country has to come together and work for these people in this time of need, only then the situation can become better, which at the moment seems quite grim.
"Where there is a steady supply of food being provided to the flood affected people, they feel that still a lot more needs to be done. As the winter season is round the corner, they live in an air of insecurity and instability."
Editor:Zhang Pengfei |Source: CNTV.CN