Watch Video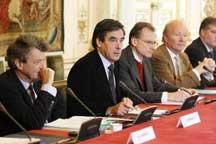 Play Video
The French government is warning that fuel shortages caused by the recent protests will last several more days. This comes despite French riot police forcibly reopening one of the country's main strategic refineries.
Pushing striking oil workers aside, police sought to end to the blockade on Friday, and halt the growing fuel shortages paralyzing France.
But striking workers later returned to the picket line, blocking the entrance to the refinery once again.
Charles Foulard, Seior Official, CGT Union, said, "We'll get to the bottom of things. We can't accept this. We're not at war, we're private sector workers. We can't accept these measures in the guise of defending the national interest."
Inside the Grandpuists refinery, oil tankers were filling up, preparing to resume deliveries to petrol stations across the country.
As of Friday, around 20 percent of French filling stations were still empty, down from 40 percent a few days ago. The head of the national petroleum industry body says companies are trying to import fuel to reduce the shortfall.
French Prime Minister Francois Fillon, convened a meeting with oil industry executives on Friday, to discuss the shortages. Fillon says it will be several days before supplies return to normal.
The government has ordered oil companies to share fuel stocks, particularly this weekend as nationwide school vacations begin.
Related stories
Editor:Zhang Pengfei |Source: CNTV.CN