Watch Video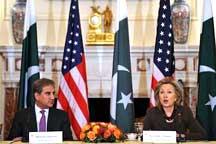 Play Video
The United States on Friday laid out a five-year, 2 billion US dollar military aid package for Pakistan.
It's being seen as the latest move by the US to encourage the Islamabad government to intensify its fight against extremists, both in Pakistan, and in neighboring Afghanistan.
US Secretary of State Hillary Clinton announced the package during the latest round of U.S-Pakistan strategic dialogue in Washington DC.
Hillary Clinton, US Secretary of State"We will request two billion dollars in foreign military assistance from Congress for 2012 through 2016. This will complement the seven and a half (b) billion dollars in civilian projects that has already been approved in the Kerry-Lugar-Berman legislation."
The new offering by the US follows a similar package initiated in 2005, which expired on October 1st. It will complement 7.5 billion US dollars in civilian assistance, which America has already committed to Pakistan.
The U.S. is hoping the announcement will reassure Pakistan of its long-term to its military needs.
The money will help the country in its efforts to pursue Taliban and al-Qaida affiliates operating within its borders.
The Pakistan government has welcomed the assistance.
Shah Mahmood Qureshi, Pakistan Foreign Minister, said, "We knew that, as friends and allies, that we would have at times differences of opinion, indeed honest disagreements, but we also knew that we have the requisite political will and robust engagement to help us resolve such momentary challenges."
This is the third round of the U.S-Pakistan Strategic Dialogue. It comes as the countries try to ease tensions over operations in the Afghan - Pakistan border area. Pakistan has expressed concern over American military incursions into its territory, whilst the US alleges Islamabad is not doing enough to target Taliban militants.
During the last round of talks in July, Clinton announced more than
500 million US dollars in aid for infrastructure projects in Pakistan.
Editor:Zhang Pengfei |Source: CNTV.CN