Watch Video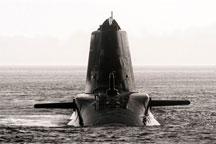 Play Video
Britain's newest nuclear-powered submarine ran aground off the coast of Scotland early on Friday. Officials say the incident was not serious, and no one was injured.
The 100-meter-long HMS Astute hit rocks off the Isle of Skye, off Scotland's west coast. The one billion pound vessel was stuck for hours. But during high tide, Royal Navy vessels managed to tow it into deeper waters.
The Ministry of Defense says the submarine was undergoing sea trials when the accident occurred. The cause of the accident is to be investigated. The ship typically carries a crew of 120.
Karl Evan, Royal Navy Spokesman, said, "I wouldn't like to speculate on the circumstances leading up to this. She's a new submarine, she's on trials, she was doing a transfer with a small boat to get some people on board at slow speed, not far from the Skye bridge; that much we know. Right now our focus is on maximizing the chances of getting her afloat."