Watch Video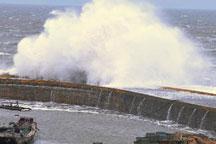 Play Video
Typhoon Megi is set to hit China's Fujian province as a category 1 typhoon, down from a category 3.
The typhoon is weakening as it closes in on southern China. After reaching land by Saturday, it should fade to a tropical storm.
According to a bulletin issued at 8:40 p.m. local time by the Hong Kong Observatory, Megi is currently centered around 440 kilometers east of Hong Kong.
It is forecast to move north at about 12 km per hour towards the coast of Fujian. Marine authorities in China say that despite weakening, the typhoon could generate a destructive "50 year storm surge" along the Chinese coastline.
Related stories