Watch Video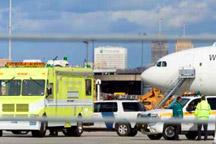 Play Video
Two packages containing explosive devices aboard planes bound for the US have been seized by authorities in Britain and Dubai. The packages were in transit from Yemen and were destined for Jewish places of worship in Chicago. US investigators suspect al-Qaeda's branch in Yemen is responsible for the packages.
The first package was discovered in Britain during routine screening of cargo in the East Midlands, 260 kilometers north of London.
It contained a toner cartridge with wires and powder.
The second one found in the United Arab Emirates contained similar materials.
The discoveries prompted US national security officials to alert President Barack Obama of a "potential terrorist threat".
Two cargo planes in Philadelphia and Newark were also scoured.
The planes were moved away from terminal buildings as officials investigated, before declaring nothing suspicious was found.
In New York, police removed a package from a UPS truck. They then tested it for possible explosives and found it not to be dangerous.
Ray Kelly, New York Police Commissioner, Said, "The one package that we had here, which was on a vehicle, a truck, that was at Chase Bank Building at Metrotech in Brooklyn, has been examined by our bomb squad and has been cleared."
The package was an envelope that came from Yemen. It appeared to contain bank receipts, and was addressed to the JP Morgan Chase bank in Brooklyn.
US security services have been on high alert since the attempted Times Square bombing in May, and the attempted Christmas Day airliner bombing.
Related stories
Editor:Yang Jie |Source: CNTV.CN