Watch Video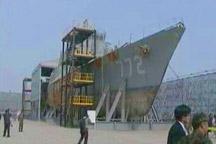 Play Video
The exchange of fire came just hours after the Democratic People's Republic of Korea criticized South Korea for rejecting a proposal to hold military talks. But the South Korea military authority says talks between the two countries would be meaningless until the DPRK changes its stance on the sinking of the Cheonan warship.
The Democratic People's Republic of Korea has denounced South Korea for rejecting military talks and continued military provocation near the border. It also says the DPRK is no longer interested in dialogue and contact as long as the South keeps doing harm to the DPRK under the pretext of the "Cheonan"
DPRK News Reader, said, "The South Korea military authority will have to keenly realize what catastrophic impact their rejection will have on north and south relations. "
But South Korea fought back.
In March, South Korean warship "The Cheonan" was sunk near the maritime border with the DPRK, killing 46 sailors.
South Korea claims the sinking was caused by a DPRK torpedo.
The DPRK denies the charge and indicated sending an inspection group to verify material evidence.
The south rejected the request.
Related stories
Editor:Yang Jie |Source: CNTV.CN