Watch Video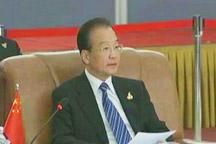 Play Video
In the Vietnamese capital Hanoi, Premier Wen Jiabao has attended the 13th summit between China and the ASEAN, and the 13th summit between ASEAN and China, Japan and the Republic of Korea. Earlier Friday, he also met his Singapore and Indian counterparts.
During the summit between China and ASEAN or the ten plus one, Premier Wen expressed China's willingness to forever be a good neighbor, friend and partner with ASEAN countries.
When talking about the five-year action plan from 2010 to 2015, Premier Wen offered a six-point proposal.
At the top of the list is pushing forward a sustainable, sound and rapid development between the two sides. It includes improving infrastructure inter-connectivity, integrating financial markets, promoting agro-economic cooperation and increasing investment in sustainable development. He also proposes deepening the mutual understanding between the Chinese and ASEAN peoples.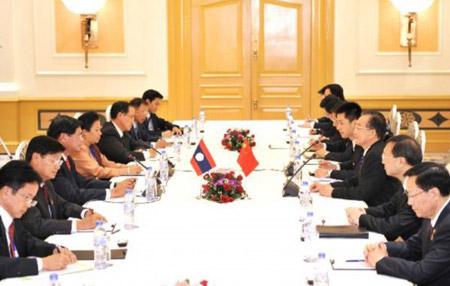 Chinese Premier Wen Jiabao (3rd R) meets with Laotian Prime Minister Bouasone
Bouphavanh (3rd L) in Hanoi, capital of Vietnam, Oct. 28, 2010. (Xinhua/Huang
Jingwen)
Meanwhile, Premier Wen declared promoting regional cooperation by spending an extra 17 million US dollars on the Asian regional cooperation fund.
ASEAN leaders say the association has greatly benefited from China, and acknowledged China's important role in regional cooperation.
Later, Premier Wen Jiabao attended the 13th summit between ASEAN and China, Japan and the Republic of Korea or the ten plus three summit.
Premier Wen pointed out the challenges East Asian countries have to face, such as unbalanced economic development among different countries and the unreasonable economic structure.
He called on all the countries to seize the opportunity to accelerate the establishment of the East Asian Free Trade Area. Efforts should also be made to promote cooperation in other areas, including food security, finance, education and climate change.
Leaders from other nations agree with Premier Wen's proposals and they say they will do their best to take those blueprints from vision to action.
Meanwhile, on the sideline of a series of summits between ASEAN and its partners earlier in the day, Premier Wen Jiabao met Singaporean Prime Minister Lee Hsien Loong and his Indian counterpart Manmohan Singh.
Editor:Yang Jie |Source: CNTV.CN