Watch Video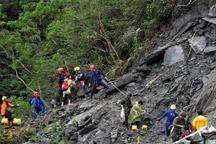 Play Video
The rescue operation for tourists missing after a landslide on Taiwan's eastern coastal Suao-Hualien Highway has entered its 9th day. So far 23 remain missing, 19 of them mainland tourists. On Friday, rescuers expanded the search areas.
Six more excavators were sent by helicopters on Friday. A total of 12 excavators are working on the site, 8 at the 114.5-kilometer section of the Suao-Hualien Highway.
Also on Friday morning, a seat cushion, a seatbelt and a white plate have been found along the same section. In the afternoon, the daughter of the missing Taiwan bus driver confirmed that the white plate looks very similar to the one on the tour bus.
Rescuers therefore speculated that the 114.5-kilometer section could be the spot where the tour bus and tourists fell into the sea after the landslide hit. They expanded the excavation in this section.
A black handbag that might belong to a tourist was found along the 112.8-kilometer section.
Suspected bus wreckage was also found in Nan'ao. Forensic personnel were dispatched to take photos. The wreckage will later be transported by helicopter to the temporary base in Ilan county.
Remains of the first confirmed mainland victim, Gong Yan, was found 8 kilometers away in the sea on October 25th. Since then, authorities have put more effort in search and salvage. 12 vessels were deployed, and the search area was expanded into waters near the Keelung port. Experts say strong winds could have caused the bodies of the victims to drift.
The grieved sister of Gong Yan obtained the death certificate from authorities this morning. Families of other missing mainland tourists are still tortured by the bitter and prolonged waiting.
Related stories
Editor:Yang Jie |Source: CNTV.CN