Watch Video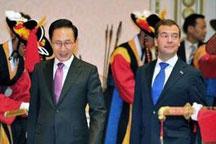 Play Video
With the two-day G20 Summit in Seoul set to begin on Thursday, heads of state from around the globe, and officials from several international organizations, have begun arriving in the South Korean capital.
By Wednesday night, the leaders of 14 countries, including US President Barak Obama, Russian President Dmitry Medvedev, Canadian Prime Minister Stephen Harper, and Australian Prime Minister Julia Gillard, had landed in Seoul. Meanwhile, delegations from international organizations have also arrived, including UN Secretary-General Ban Ki-moon, and the delegation from the Organization for Economic Cooperation and Development.
Other leaders, including heads of G20 member countries like China and Japan, will arrive on Thursday. French President Nicolas Sarkozy will be the last to land in Seoul, on early Friday, after attending a ceremony commemorating the First World War. The officials will discuss a number of global economic and financial issues during the meetings.
Editor:Zhang Jingya |Source: CNTV