Watch Video
Play Video
The belongings of convicted swindler Bernard Madoff are set to go on sale in New York City this weekend. The possessions include ordinary objects like wool socks, cuticle scissors, and even shampoo bottles.
But some items will be marked with the initials of the notorious financier -- from his Italian velveteen slippers to his personally tailored underwear. On Wednesday, federal marshals gave the media a preview of what buyers can expect at Saturday's auction. Bed linens, clothing, cookery, and luggage are among the thousands of artifacts seized from the fallen executive's Manhattan penthouse and Long Island beach bungalow.
Madoff led a lavish lifestyle before going to prison. He left behind homes filled with masks and bulls -- symbols of both Wall Street success, and the fraud that destroyed him. The proceeds will be used to assist his victims.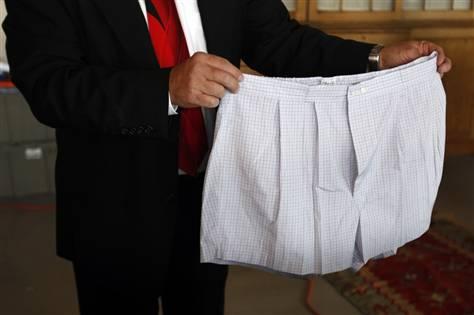 A pair of boxer shorts belonging to fraudtser Bernard Madoff are displayed by an auctioneer during a media preview of the U.S. Marshals Service 'Madoff II Auction' in the Brooklyn borough of New York November 10, 2010.
Related stories