Watch Video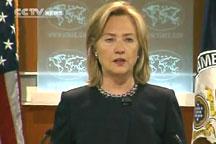 Play Video
The issue of Jewish settlements in disputed East Jerusalem is making headlines around the world once again this week Israeli, Palestinian, and US officials are making public statements about their stance on the situation.
Israel's Interior Ministry announced earlier this week that a plan to build 1,300 homes for Jews in disputed East Jerusalem will be made available for public comments -- a procedural step that precedes construction in the country.
Vice Prime Minister Silvan Shalom insists that the ancient city is the "eternal capital of Israel," saying its people will continue to build there forever.
Silvan Shalom, Israeli Vice Prime Minister, said, "I think that the time has come for the Palestinians to take a strategic decision, and to decide to renew negotiations without preconditions. If they will do so, they will see that the Israeli government is willing to move toward peace, and I hope they will do it immediately, and the sooner the better."
The Palestinians want to establish their future capital in East Jerusalem, which was captured in the 1967 Mideast War.
Israel annexed the area immediately after the conflict, and has since built neighborhoods there for nearly 200,000 Jews, in an attempt to tighten its hold.
Prime Minister Benjamin Netanyahu also says he will not relinquish East Jerusalem. He adds that Israel has never agreed to freeze construction there, and building will continue.
US Secretary of State Hillary Clinton, meanwhile, is reiterating that her country is "deeply disappointed" by this week's declaration.
Hillary Clinton, US Secretary of State, said, "The United States was deeply disappointed by the announcement of advanced planning for new housing units in sensitive areas of East Jerusalem. This announcement was counterproductive to our efforts to resume negotiations between the parties. We have long urged both parties to avoid actions which could undermine trust, including in Jerusalem. We will continue to work to resume negotiations to address this and other final status issues."
During a video news conference with Clinton, Palestinian Prime Minister Salam Fayyad expressed appreciation for America's efforts to restart the peace process.
Salam Fayyad, Palestinian Prime Minister, said, "This time around, as it happened before, that remains a very serious challenge, and a problem for all of us. Therefore, Madame Secretary, in the period ahead we certainly will continue to look to you for continued strong leadership, as you continue to try hard to put together elements that are necessary to have a strong political process."
Palestinians also say they want a UN Security Council session to discuss Israeli settlement construction.
Related stories
Editor:Zhang Pengfei |Source: CNTV.CN