Watch Video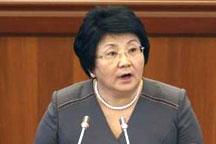 Play Video
Kyrgyz President, Roza Otunbayeva, has urged the country's new parliament to hastily elect a prime minister within three weeks, to avert a possible re-run of elections.
The Parliament will be given three attempts to form a coalition and approve a new prime minister. If they fail to do so, the president will dissolve the parliament and call for a new election in the next two months.
She urged deputies to select cabinet members based on their professionalism and knowledge of the economy.
Roza Otunbayeva, Kyrgyz President, said, "Now I have to determine a faction which will form a majority. This faction will be obliged to form a coalition and to select a candidate for prime minister within 15 days and to offer a government structure and its program to the parliament. This is not an easy issue. It will require big efforts in order to come to terms."
Editor:Zhang Pengfei |Source: CNTV.CN