Watch Video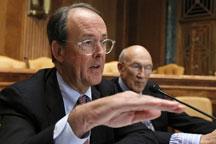 Play Video
A US presidential commission is proposing to raise the retirement age.
The required age for a social security pension will be 68 years by 2050 and 69 years by 2075. This is according to recommendations from Obama's deficit reduction commission.
A draft put out ahead of the panel's final proposal also suggests tweaking the popular mortgage tax deduction and cutting defense spending.
Erskine Bowles, Co-Chairman, Bipartisan Fiscal Commission, said, "We face the most predictable economic crisis in history. Every single member of Congress knows that the path we are currently on is not sustainable. Nobody debates that. The debate is how do we address it. We put out a plan to do that and we expect that plan to be modified as we go forward."
Related stories
Editor:Zhang Pengfei |Source: CNTV.CN