Watch Video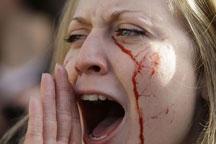 Play Video
Tens of thousands of students have marched through London to protest plans to triple university tuition fees. At times the protests erupted in violence, with students trashing a government building.
50-thousand students, lecturers and supporters demonstrated against plans to raise annual tuition costs to 9-thousand pounds.
The government plans to slash state funding for universities to help tackle its budget deficit.
Protesters near Millbank Tower stormed a building containing the headquarters of the governing Conservative Party. Eight people including police officers were injured in the clash.