Watch Video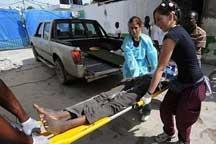 Play Video
Severe cholera continues to spread in Haiti. The country has been battling through the disease for three weeks now.
Hundreds of people suspected of having cholera are lying in hospital beds, suffering the disease's symptoms of fever and diarrhea.
Transmitted by contaminated water, cholera has mostly hit Haiti's rural central regions. But authorities say the disease has now gained a foothold in Port-au-Prince and is menacing crowded slum areas of the capital.
Doctors and international aid groups have been rushing to set up cholera treatment centers and cure the suspected patients.
Bory Yata, Member of UK Red Cross, said, "We have had people who have come in and they have severe diarrhea, although we couldn't confirm what it is. We have taken all the stringent, health, infection control precautions to stabilize their conditions and many of those have been referred on to appropriate clinics to ensure that they are looked at."
The spreading epidemic has worsened due to flooding caused by Hurricane Tomas earlier this month.
The most recent figures issued by Haiti's health ministry say cholera has killed 648 people in the country and sickened nearly ten thousand as of Monday.
Haitian and foreign aid workers are continuing campaigns to tell people to wash their hands, cook food thoroughly and take other precautions against the spread of the disease.
Editor:Zhang Pengfei |Source: CNTV.CN