Watch Video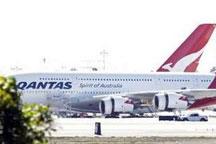 Play Video
Australian airline Qantas says it's extending the grounding of six Airbus A380's for at least two more days. The company says it wants to make sure the aircraft are 100 per cent safe.
Last week a massive engine failure forced a Qantas A380 flight leaving Singapore to return to the airport. Luckily no one was hurt. Following this incident, Qantas suspended six of its Airbus A380's from service for a safety check.
Early this week, the airline's spokeswoman gave a loose deadline of Thursday for a decision on whether the fleet would return to service. Thursday rolled around and the planes are still grounded for at least two more days.
Olivia Wirth, Qantas Spokesperson, said, "Qantas A380s are still on the ground as we have an intensive inspection program underway. We're doing this in partnership with Rolls Royce and until we have one hundred percent confidence in the safety of our fleet, we simply won't be putting them in service."
She says Qantas is using other planes to meet its international schedule.
Airbus A380 made its maiden flight in 2005, and its first commercial flight two years later. Currently, there are 37 A380s in operation worldwide. Air France, Emirates, Lufthansa, Singapore Airlines and Qantas use the plane.
Related stories
Editor:Zhang Pengfei |Source: CNTV.CN