Watch Video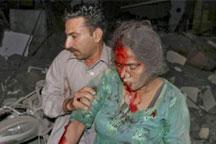 Play Video
A powerful blast took place in Pakistan's largest city of Karachi on Thursday. At least 30 people have been killed, with 150 other people injured. As Damion Jones tells us, the explosion is the area's second-biggest in the last six months.
Sources say a building targeted by the blast in Karachi was completely leveled, while many others were buried under the debris. The number of people still trapped in the collapsed compound is estimated at 40.
The blast occurred at a Crime Investigation Department complex, where at least six terror suspects from the Lashkari-e-Jhangvi network and a Taliban militant were detained, in addition to numerous others.
The explosion went off on Club Road at about 8 PM, in a busy downtown area where many important building are located, including the house of Sindh Province's governor, the residence of Karachi's Chief Minister, and the US Consulate.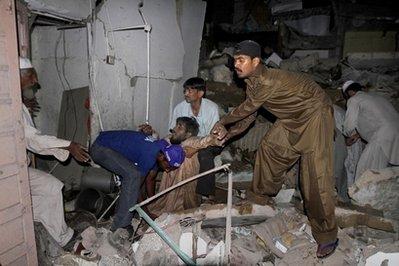 A Pakistan rescue worker and volunteers remove an injured person
at the site of bomb explosion in Karachi, Pakistan on Thursday,
Nov. 11, 2010.(AP Photo/Shakil Adil)
One elderly man frantically described the moments before the boom.
Abdur Rab, Explosion Eyewitness, said, "I was getting the building whitewashed. The worker had just finished his work, and I was paying him. Suddenly, I heard gunfire that went on for about three or four minutes. Then an explosion rocked the area. We ran into our homes."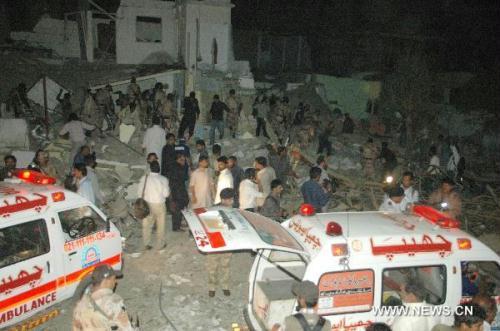 Ambulances park at the blast site in southern Pakistani port city of Karachi on
Nov. 11, 2010. At least 30 people were killed and 150 others injured in a
powerful blast that went off Thursday night in the downtown area of Karachi,
the largest industrial city in southern Pakistan.(Xinhua/Arshad)