Watch Video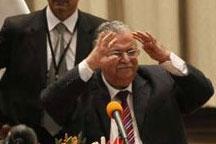 Play Video
Kurdish incumbent Jalal Talabani has been re-elected by Parliament as Iraq's President. He then designated Shiite Prime Minsiter Nouri al-Maliki to form a new government. Thursday's moves end a 8-month political deadlock.
Jalal Talabani was re-elected as Iraq's President despite a walk-out by members of the Sunni-backed Iraqiya Alliance, led by former Prime Minister Ayad Allawi.
Most members of the bloc walked out because they refused to vote before Parliament approved a list of conditions which had been brokered earlier with a number of other factions.
One of the demands was to issue a law for the National Council on Strategic Policies, which would give Allawi more power in regard to security issues, and to review the country's de-Baathification law.
Talabani was re-elected by an overwhelming margin of 199 votes after the walkout.
He later tabbed Shiite Prime Minister Nuri al-Maliki to form a new administration within 30 days.
Iraq has been without a permanent government since an inconclusive election in March.
A Sunni-backed coalition led by Allawi narrowly won the poll, while al-Maliki's side finished second. But neither party managed to muster the majority needed to form an administration.