Watch Video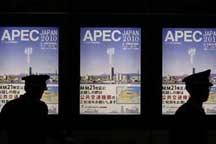 Play Video
Leaders from the Asia Pacific Economic Cooperation will open their meeting on Saturday in Yokohama, Japan. It comes on the heels of the G20 talks in Seoul. Attention is focused on whether they can resolve any lingering disagreements over economic policy that appear not to have been overcome in South Korea.
Leaders from Asia-Pacific economies are flying into Japan to discuss ways to boost trade and shore up economic growth.
Some delegates have already explained their concerns at the CEO summit held on the fringes of APEC meeting in Yokohama.
The Chief Executive of the Hong Kong Special Administrative Region had some words of warning for those who think that the dangers of the financial crisis are receding. Donald Tsang says the possibility of an economic "tsunami" is a real danger.
Donald Tsang, Chief Executive of Hong Kong, said, "You can see rapidly emerging bubbles in different pockets of Asia. And if any one of these bubbles burst,in whatever countries we have in here, whether it is in the securities market, or whether it is in the property market,it will be highly infectious."
The 21-member APEC forum includes the world's three biggest economies -- the US, China and Japan -- and some of the fastest growing emerging ones such as Indonesia, Thailand and Mexico.
One of the most contentious issues is how to achieve balanced growth.
The leaders will look at various ways of creating a Free Trade Area, which if it is achieved, would become, by far, the world's largest.
Related stories
Editor:Zhang Ning |Source: CNTV