Watch Video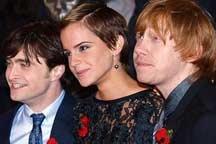 Play Video
"Harry Potter and the Deathly Hallows: Part 1", the next-to-last installment in the film franchise about the teen wizard, premiered Thursday in London. The debut comes ahead of its theatrical release next week.
Thousands of fans descended in central London on Thursday, braving wind and rain to catch a glimpse of the stars on the red carpet for the new Harry Potter film's world premiere.
According to the stars, it is their biggest Potter premiere yet.
Actor Daniel Radcliffe said, "It's amazing, you know, the fans of these films are some of the most hardy in the world to be able to camp out overnight in what has been frankly torrential rain over the last few hours. You know they're a pretty amazing group so we're very grateful to them."
Actress Emma Watson said, "It's absolutely incredible, I can't believe that after 7 films the red carpet still gets bigger. You'd think the hype would die off a bit but it still keeps getting bigger it's incredible."
The adaptation of J.K. Rowling's seventh and final novel comes in two installments, with the second film due out next year.
Now that filming on the two part finale has wrapped, it's the end of an era for the stars.
Actor Rupert Grint said, "I'll always keep in touch I think, we've been through this kind of quite unique experience together and I think that will never leave us and we'll always keep in touch."
"Part 1" sends Harry and his friends outside their usual haunts at Hogwarts School of Witchcraft and Wizardry as they search for artifacts that are key to the power of dark Lord Voldemort.
The film opens in the UK, the United States and much of the world November 19th. And the final movie, which will be released in 3D, is scheduled to hit cinemas in July 2011.
Editor:Zhang Ning |Source: CNTV