Watch Video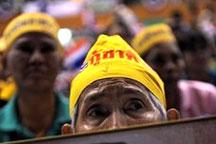 Play Video
Now let's move to Thailand. Protestors have held another demonstration in Bangkok. The Peoples Alliance for Democracy, better known as the Yellow Shirts, has protested against two proposed changes to the nation's constitution.
The People Alliance for Democracy, better known as the Yellow Shirts, settled in for a day of demonstration ...
This time however, unlike 2008, they chose Parliament, rather than Government House ... and they say they will just stay for a day.
They are protesting against two proposed changes to the Thai constitution.
This 9th Century temple on the Cambodian border has been the cause of much Yellow Shirt anger in recent months.
They claim the government of Abhisit Vejjajiva has ceded the temple to Cambodia.
This, they say, is why politicians should not be allowed to interfere in issues of sovereignty one of the proposed charter changes.
The other proposed change is to the electoral law.
But the Yellow Shirts accuse the government of gerrymandering manipulating voting patterns to make the most of their support.
For one of their leaders, who narrowly survived an assassination attempt two years ago, the current constitution is one for which the Yellow Shirts shed blood ... and they are not going to give up the fight.
Back at Government House, the Prime Minister delayed the crucial vote for 2 days.
But the administration doesn't seem to be bowing to the Yellow Shirt demands.
Nonetheless, after a week that has seen major demonstrations by the Red and Yellow Shirts, government claims of bridging the political divide are sounding hollow.
Back at the protest site, the Yellow Shirts were in full voice. They claim the government has no popular mandate to make these changes an accusation that seems oddly reminiscent of the Reds.
"And as the two mass movements of Thailand's political divide start to mobilize again, everyone's wondering if they are heading down the same path as they did in the past. TC, CCTV, Bangkok."