Watch Video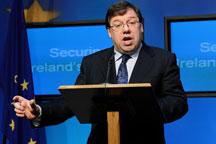 Play Video
Ireland has unveiled a four-year austerity plan to help solve the country's debt crisis. The budget measures used spending cuts and tax increases to help meet the terms of a bailout from EU and IMF.
The austerity plan is part of the harshest budget measures in Ireland's history.
The plan seeks to cut 10 billion euros from spending and raise 5 billion euros in extra taxes from 2011 to 2014 to combat Europe's worst deficit.
Irish Prime Minister Brian Cowen said the plan is a confidence-building measure to push forward the process of national recovery.
He said, "It's to bring certainty for our people, it's to ensure they have hope for the future: to let them know that while we have a challenging time ahead we can and we will pull through as we have in the past."
The government's long-awaited austerity plan is a prerequisite for Ireland to get an international loan estimated to total 85 billion euros.
The bailout is still being negotiated with experts from the International Monetary Fund and European Central Bank in Dublin.
Finance Minister Brian Lenihan said Ireland would be shooting itself in the foot if it did anything to scare off foreign investment. He added that the government would introduce a hefty property tax.
He also said, "The site value tax to be paid by all householders will be introduced next year for 2012. It will amount to an average of just over 200 euros per household by the end of the plan in 2014."
Ireland hopes its tough measures will permit its 2014 deficit to fall to 3 percent of gross domestic product, the required limit for the Eurozone's 16 nations.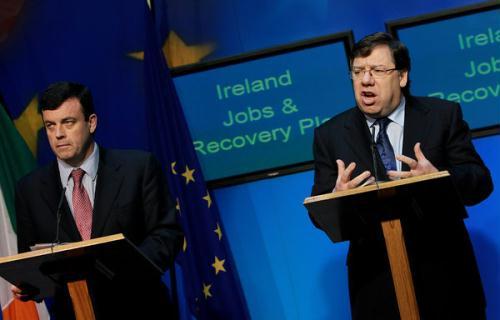 Taoiseach Brian Cowen (right) and Minister for Finance Brian Lenihan announce the
National Recovery Plan at the Government Press Centre in Dublin.