Watch Video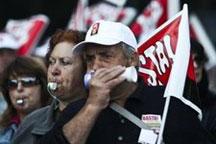 Play Video
Dozens of flights in and out of Portugal's capital of Lisbon have been cancelled or rescheduled as the country's two biggest unions began a general strike Wednesday. The groups are protesting the government's austerity measures.
Portugal's general strike got underway long before dawn.
The country's two biggest unions are staging their first joint action for more than 20 years.
They're hoping to force the minority Socialist government to reverse spending cuts and tax hikes in western Europe's poorest country.
Public anger over severe austerity measures, aimed at reducing Portugal's ballooning budget deficit, is coupled with fears that the country could be next in line to need a bailout.
One economist said Portugal's fate will depend on whether the market was prepared to buy Portuguese debt - a catalyst to the Greek and Irish bailouts.
Commerzbank's Peter Dixon says the market isn't in a 'forgiving mood'.
He said, "Once the Portuguese Treasury has to go into the market to try to roll over its debt, we might start to see some funding difficulties, and that's the point at which you could start to see the Portuguese have to start thinking about tapping stability funds in order to tide the economy through the next year or so."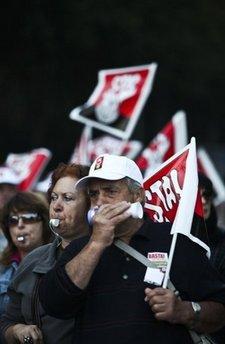 Demonstrators blow whistles during a
protest against the new budget policies
in the Portuguese capital, Lisbon.
More than 500 flights are due to be
cancelled across the country, while
major ports including Lisbon and
Setubal will be paralysed as part
of unprecedented nationwide strikes,
unions have said.(AFP/File/Patricia
de Melo Moreira)
Lisbon has been plastered with banners for weeks urging workers to join the strike.
The walk out closed ports and other transport terminals, grounding flights and leaving check-in counters empty.
Picket lines stretched across other sectors, from healthcare to banking, to retail and education.
But the strike failed to shut down the capital.
Many of those who struggled into work were pessimistic about what the day of action could achieve.
A public servant said, "It's a form of struggle, but it won't solve anything. It's just a way of demonstrating."
Parliament is to vote on the austerity budget on Friday, a move that will do little to lighten the gloom hanging over the Iberian Peninsula.
Related stories
Editor:Zhang Jingya |Source: CNTV.CN