Watch Video
Play Video
Prime ministers of the member states of the Shanghai Cooperation Organization, or the SCO, have met in Dushabe, the capital of Tajikistan. This is the ninth forum between member states. During the conference, SCO Prime Ministers agreed to further regional cooperation within the group's framework. Chinese Premier Wen Jiabao attended the meeting. He delivered China's stance on promoting regional peace and security by combating "three evil forces", terrorism, extremism and separatism.
He suggests establishing a strategic communication channel and a long term mechanism between member countries. Wen Jiabao also presented a six-point proposal of increasing the vitality of trade ties, energy transport safety as well as developing new energy, and increase infrastructure construction. He is also proposing enhancing cooperation in finance, especially on setting up an SCO development bank. Wen also wants to promote deeper cooperation on agriculture and culture.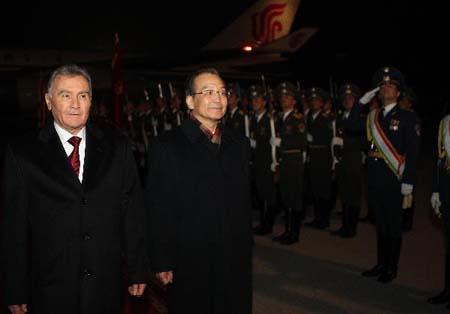 Chinese Premier Wen Jiabao (2nd L) is greeted at the airport by Tajik Prime
Minister Akil Akilov in Dushanbe, capital of Tajikistan, Nov. 24, 2010. Wen
Jiabao arrived at Dushanbe Wednesday for an official visit to Tajikistan where
he will attend the 9th prime ministers' meeting of the Shanghai Cooperation
Organization. (Xinhua/Ju Peng)
Earlier in the day, Wen met with the Tajik president and conveyed the well wishes of Chinese President Hu Jintao. Wen says Tajikistan is an important partner to China in Central-Asia. And China is willing to enhance bilateral relations, as well as the cooperation in trade, electricity, communication and mining. The premier also hopes the two countries will firmly implement the signed cooperative framework between China's Xinjiang Uighur Autonomous Region and Tajikistan. Wen Jiabao ends his 4 day trip and arrived back in Beijing this afternoon.
Related stories