Watch Video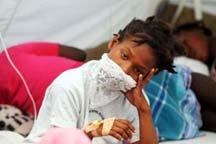 Play Video
In Haiti, the cholera outbreak plaguing the nation continues to worsen. The death toll is now at more than 1,400 and is increasing daily.
A startling sight, dead bodies wrapped in white plastic sheets. They are victims of cholera.
Dozens of patients receive medical treatment in shabby conditions. Some have to sleep on the floor due to a lack of beds. That includes children who are most prone to the disease because their immune system is not fully developed.
There are still hundreds of cholera patients crowding clinics in rural areas in northern Haiti where very little aid is arriving to help doctors tackle the spreading epidemic.
Authorities say as many as 400,000 people could fall ill in the coming year.
Protests erupted in the country against the Haitian government and the UN, whose peacekeepers are suspected of inadvertently bringing cholera to the nation.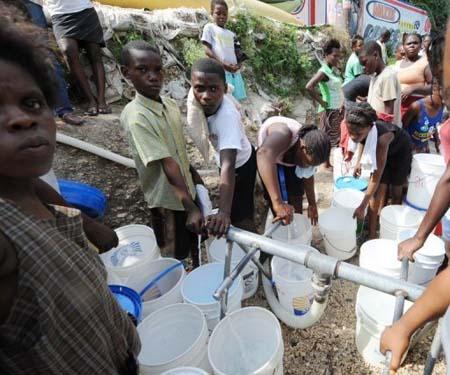 Haitians receive potable water at a distribution center in the Petion-ville
suburb of Port-au-Prince. Haiti reported 25 more cholera deaths as officials
warned the epidemic was not yet over, and aid groups fought to keep the disease
out of the capital's teeming refugee camps. (france24.com)
Meanwhile, in the capital of Port-au-Prince, Haitian police dispersed a protest with tear gas Wednesday, where tension was building ahead of Sunday's elections.
Around 50 people turned out to denounce the elections, which one man called "a selection not an election," claiming the candidates were all pre-approved by the government.
Related stories