Watch Video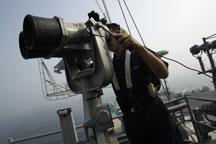 Play Video
South Korean and US forces have wrapped up their joint four-day naval drills in the Yellow Sea. South Korea says it's planning more live artillery, maneuvers, next week. CCTV correspondant U-Jean Jung reports from Seoul.
The large scale joint military exercise between the United States and South Korea ended today at 2pm local time. This week's exercise started on Sunday in the Yellow Sea, far south of the border with the DPRK.
The 24-hour exercises for 4 days involved the 97,000-ton aircraft carrier USS George Washington and four other US warships as well as the 7,600-ton guided-missile Aegis destroyer Sejong the Great, and other destroyers, frigates and an anti-submarine aircraft.
Wednesday's drill was focused on carrying out maneuvers of fleet protection and logistic sustainments under various scenarios of enemy threat, according to an official from the Joint Chiefs of Staff or the JCS.
FUTURE PLANS: JOINT MILITARY EXERCISE
The two countries have been discussing future plans to carry out several rounds of joint military naval drills later this year or early next year, though no further details have been set so far, according to Col. Kim Young-chul of the JCS on Wednesday.
FUTURE PLANS: FIRING DRILLS
Separately, the Joint Chiefs of Staff have said that South Korea also plans to hold live fire artillery drills next week for 5 days. The exercise will take place in 29 locations around the 3 seas of the Korean peninsula, but will not take place near the seas of Yeonpyeong island.
The South Korean military said the joint exercises took place as a message to the DPRK. Although the joint drills did not trigger further attacks from the DPRK, the military tensions on the peninsula may not be over yet as additional live-fire drills are planned next week.
Editor:Zhang Jingya |Source: CNTV.CN