Watch Video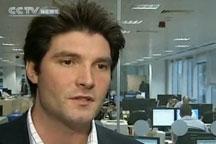 Play Video
Major sporting events, such as the football World Cup, are commonly seen as an opportunity to boost local economies - particularly amidst the financial downturn, currently sweeping, parts of the globe. But some experts are warning that expectations don't ALWAYS become the reality.
Leaders and football advocates from around the world arrive in Switzerland to back their bids to host the 2018 or 2022 World Cup soccer tournaments.
They are keen to bag the prestigious competition for the glory - but is it good for their economies?
Analysts are warning that huge investments in infrastructure required to host the games are not necessarily matched by the income they bring in.
George Godber from Matterley says billions of dollars can be spent on prestige projects and security while the economic effects are marginal.
He also said the pay back can go on for years.
He said, "You get reference to an Olympic hangover where a city or an area will really give itself up for one big event and everything goes to getting it all bright and sparkling and shiny then in the aftermath of that you are left with an empty stadium and the party's happened and it's referred to as the Olympic hangover then there's the withdrawal from the economy you aren't employing the extra 100,000 people you had for the event they are out there looking for jobs ."
The 2018 hopefuls are England and Russia with joint bids from Spain and Portugal and the Netherlands and Belgium.
While Australia, Japan, Qatar, South Korea and the United States are in the running for 2022.
And the winners will benefit.
Hotels, restaurants and catering, along with travel, security and construction can all expect a healthy boost from a big event.
And a win for the UK could have multiply benefits as it tails a series of big events. .
He said, "Royal Wedding 2011 obviously we have got the Olympics in 2012 and we know we've got the Rugby World Cup in 2015 and to add in the football world cup in 2018 is a much more significant longer term boost to tourism revenues and people coming to visit the country from overseas to support their teams so that would have more material impact."
But as Europe battles with a debt crisis the 2018 contenders including struggling Portugal are hoping for a windfall.
One of the world's biggest sporting events would certainly help their sagging construction industry.
Editor:Zhang Jingya |Source: CNTV.CN