Watch Video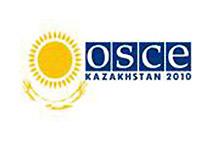 Play Video
Kazakhstan is hosting the 7th summit of the Organization for Security and Cooperation in Europe, or OSCE. The two-day summit opened amid tight security on Wednesday and is highlighted by discussions on issues ranging from situation in Afghanistan to fighting terrorism and the illegal drug trade.
US Secretary of State Hillary Clinton has called on the OSCE to play a bigger role in the issue of Afghanistan and other long-running conflicts. It is the first top-level meeting of the 56-nation group in 11 years and it is the first time that an OSCE summit has been held in a Central Asian country.
The Conference on Security and Cooperation in Europe was created to serve as a multilateral forum for dialogue and negotiation between the East and the West.