Watch Video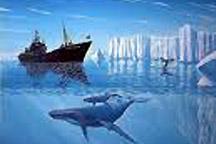 Play Video
The fleet of an anti-whaling group, Sea Shepherd, has sailed out of Hobart, Australia. It is now on its latest mission to stop Japanese whaling activities in Antarctic waters.
Two of the group's ships the "Steve Irwin" and the "Bob Barker" set off from the Tasmanian capital.
They are bound for the Southern Ocean, trying to block the Japanese whaling fleet from firing harpoons and dangling ropes in the water.
The shepherds say, if they can't load whales, they can't kill whales.
Captain Paul Watson, Sea Shepherd, said, "Last year, we were able to stop them for 42 solid days by doing that. So, the quicker we get on to them, the more effective it will become."
Another violent series of confrontations is probably on the way.
In recent years the whalers have fired water cannons and sonar devices to disorient the activists.