Watch Video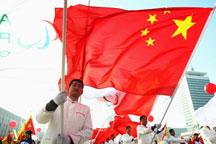 Play Video
The Asian Para Games are getting ready to light up Guangzhou. Members of the Chinese delegation are getting ready to give it their all.
Xu Qing will be one of China's favorites in the pool. Xu won three golds in swimming at the 2008 Paralympics. He just began resuming training after taking two-months off to recover from an inner ear inflammation. Xu lost his arms during a car accident in 1997.
He said, "Swimming kept me from being depressed. Now I am not afraid to take my coat off, to show my disabled arms. I feel that I am equal with ordinary people."
Designed for the blind, Goalball puts an emphasis on sound and touch. Bells are placed inside the balls...and the players judge the speed, location and direction of the ball by the bells.
Each half is ten minutes long...with a point awarded for each goal. The ball used in the sport is quite heavy, so a few bumps and bruises are bound to happen along the way.
Wang Jinqin, coach of Chinese Women's Goalball Team, said, "The ball is very heavy. It weighs more than one kilogram. The ball beats on the body of the players. The distance is nearly 10m, and the ball covers it in less than a second. If the ball hits the player, it can hurt."
It is not unusual for goalball athletes to suffer injuries, and show bruises on their bodies.
But they are aiming for an Asian Para Games gold medal, and never stop training for the challenge.