Watch Video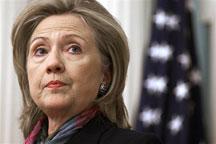 Play Video
George Mitchell is back in the Middle East this week shuttling between Israel and the Palestinians to push the new "core issues" direction. The US government is pushing it as a means of reviving talks between the two sides. As CCTV correspondent Stephanie Freid explains, Mitchell may have his work cut out.
It's been three months since Mideast envoy George Mitchell visited this part of the world. That's because shortly after his last trip, peace talks he helped instigate between Palestinians and Israelis collapsed.
This visit, however, was purposely timed. It coincides with a speech US Secretary of State Hillary Clinton delivered days earlier. Using strong and resolute wording, the Secretary of State urged both sides to come back to negotiations, vowing the US will not sit by idly in the interim.
She said, "The United States will not be a passive participant. We will push the parties to lay out their positions on the core issues without delay and with real specificity. We will work to narrow the gaps, asking the tough questions and expecting substantive answers."
Mitchell is in the region to deliver a message: The Obama administration expects Israel to take a position within the coming weeks on core issues facing the sides.
This is a shift in the Washington administration's stance. Up until a week ago, US mediators were pursuing Israel's commitment to freeze settlement building as a way of getting back to talks.
But as failure to gain compliance perpetuated, the US shifted gears, bringing the focus to core issues. Palestinian leaders are doubtful.
Nabil Shaath, Palestinian President Senior Aide, said, "Without Mr. Netanyahu complying on the interim issues, what kind of credibility do you have that he, or his successors, will implement the final issues, the permanent issues?"
Right or wrong, core issues are on the table now and it's Israel's turn to show a hand.
Stephanie Freid said, "The U.S. administration is counting on a MidEast peace deal bringing stability to the region. So a peace process that's been in the works for decades has now moved to a new level. The onus is on the parties to either step up to the next round or falter, missing an opportunity many analysts say may not come around again anytime soon.
Stephanie Freid for CCTV in Tel Aviv"
Related stories
Editor:Zhang Jingya |Source: CNTV.CN