Watch Video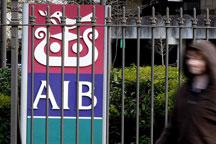 Play Video
Ireland's Allied Irish Banks says it won't pay bonuses to executives. The announcement comes, after the country's finance minister, threatened to stop state support, IF the extra money was paid out.
For those who feel bankers have been laughing in the face of other's adversity it was presumably a good day.
For executives at Ireland's Allied Irish Banks - a bad one.
Because bosses said they would not be paying out bonuses after Ireland's finance minister threatened to stop state support for the bank if the extra money was paid out.
Last week it was reported that Allied Irish would pay out 40 million euros to some of its executives in bonuses for work that was done in 2008.
The move prompted a storm of criticism.
Allied Irish is facing majority state ownership with the government forced to seek 85 billion euro assistance from the IMF and the EU amid rising nervousness about huge loan losses at the banks.
Previous reckless lending practices had fueled a property bubble that plunged the country into crisis.
Ireland's Finance Minister Brian Lenihan wrote to AIB saying state support would be conditional on the "non payment of bonuses awarded no matter when they may have been earned."
Allied Irish Banks have lost 12 billion euros in deposits since the end of June according to new data.
35 billion euros from the bailout has been channeled into banks so far with a further 25 billions kept aside in case further injections are required.
Editor:Zhang Jingya |Source: CNTV.CN