Watch Video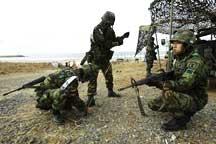 Play Video
We start with the inter-Korean tensions. South Korea is planning civil defense drills on Wednesday afternoon, and meanwhile the nation's forces are to embark on a second week of live-fire drills next week.
South Korea has urged its citizens to pay closer attention than usual to the nationwide civil defense drills. The drills will focus on directing citizens to the nation's thousands of underground shelters.
About 12 jet fighters will simulate air strikes overhead. Such drills are conducted monthly, but officials said they are seeking special cooperation, and preparing people for the increased threat of the DPRK.
The live-fire drills are set to run Monday through Friday at 23 sites around the nation's coasts.
This is in disregard to a warning from the DPRK that the exercises could spark an all-out war. But none of the drills are to take place near the disputed maritime border between South Korea and the DPRK.