Watch Video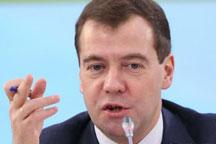 Play Video
Russia's President, Dmitry Medvedev, says he's not fully satisfied with his country's pace of modernization this year.
The declaration came at a Tuesday session of the Modernization and Technological Development Commission, in the nation's new flagship technology hub, Skolkovo.
The group meets once a month to discuss economic modernization, business development strategies, and new commercial legislative provisions.
Medvedev says innovative businesses can't continue to exist at the sole expense of the state. He's appealing to entrepreneurs to play active roles in the development of innovation. Medvedev adds that state funds for innovation should exist, and be invested, but this pattern can't last forever.
In his opinion, freely-run private companies, independent of the government, should arise as a result of these investments but he vows that the Kremlin will continue pouring money into urgent cutting-edge systems as well as the most important programs.
Related stories