Watch Video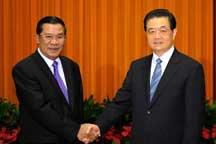 Play Video
President Hu Jintao and top legislator Wu Bangguo have separately met with Cambodian Prime Minister Hun Sen.
President Hu Jintao reviewed bilateral ties since the two countries established diplomatic links half a century ago. He said the two countries have forged closer bilateral relations in recent years and China is willing to keep frequent high-level contacts with Cambodia and deepen cooperation in all areas.
President Hu called for the two countries to continue sharing opportunities and join hands in coping with challenges when facing complicated regional and international situations. Hun Sen agreed with Hu's comments, he said Cambodia hopes to continue to have close contact with China at all levels, and vows to work with China to enhance mutual trust and further deepen comprehensive cooperation.
During his meeting with Hun Sen, top legislator Wu Banguo said China values bilateral ties and spoke highly of Cambodia's firm support on issues related to China's interests.
China is pleased with the sound relationship. Wu Bangguo calls for closer cooperation involving each other's major concerns and common interests, increasing political and strategic mutual trust, and expanding pragmatic cooperation.
Hun Sen called the visit fruitful, establishing a comprehensive strategic partnership and signing agreements in areas such as energy and infrastructure.
Related stories