Watch Video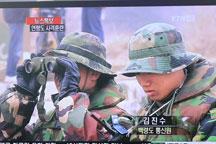 Play Video
South Korea has ended its live fire drills in the Yellow Sea. The move comes after the DPRK shelled South Korea's Yeonpyeong Island almost a month ago.
The 90 minute drills involved several types of weapons, including K-9 self-propelled guns.
South Korea also deployed an anti- missile Aegis destroyer and put fighter jets on standby in anticipation of potential counterattacks from the DPRK, which threatened to unleash "self-defense blows" if Seoul went ahead with planned drill.
Lee Bung-Woo, Spokesman of S. Korea Joint Chiefs of Staff, said, "The Yeonpyeong island unit's maritime live-fire exercise started at 14:30 and ended at 16:04 on December 20th. However, our military is on guard with a full alert, observing North Korea's military situation closely and maintaining an immediate counteractive posture considering all possible contingencies."
South Korea's Yonhap news agency says the DPRK has raised military readiness of its artillery units.
During a news briefing on Monday, a South Korean Foreign Ministry spokesman defended the exercise, saying the drills were in a southwest direction, and not aimed at the DPRK.
Kim Young-Sun, Spokesman of S. Korean Foreign Ministry, said, "The ongoing live-fire exercise on Yeonpyeong island is an exercise taking place within our territory and within our waters. Moreover, this exercise is a standard and legitimate defensive exercise. Therefore, our understanding is that the exercise taking place is a matter of our national sovereignty."
So far, the DPRK has not taken a military response to the drill.
People in South Korea are holding different opinions on the exercise.
Kim Ae-Sook, S. Korean Housewife, said, "Until now, we have been acting too passively. It might sound a little strange to say this as we are the same race, but honestly, I think North Korea is looking too down on us. We have to do this at least once in the future, so I am glad that we did it."
Yu Jeong-Hwa, S. Korean student said, "At this moment when the relationship between South Korea and North Korea has not been recovered, I think it is the wrong thing to resume the live-fire exercise on Yeonpyeong island. It's like each side is fighting for self-pride ."
Before the drill, residents, local officials and journalists on Yeonpyeong and four other islands were ordered to evacuate to underground shelters for possible attacks from the DPRK.
Slideshow: S Korea begins live-fire artillery drill in waters near Yeonpyeong Island Click here to see more>>
Meanwhile, South Korean Peace activists have held up signs and chanted peace slogans, calling on the military to cancel what the activists call a provocative exercise.
The drill,which follows the deadly exchange of fire between South Korea and the DPRK on Yeonpyeong island, was originally planned for Sunday, however heavy fog delayed the exercises.
The UN Security Council failed on Sunday to agree on a statement to address rising tensions on the Korean Peninsula.
Editor:Zhang Jingya |Source: CNTV.CN