Watch Video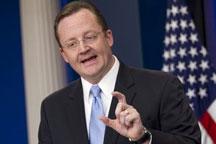 Play Video
A White House spokesman says the Obama administration believes the Senate will ratify a new START strategic nuclear arms treaty with Russia. The Senate is expected to hold its first vote Tuesday on the pact.
Robert Gibbs, White House Press Secretary, said, "The White House believes that before Congress leaves town the Senate will ratify the new START treaty."
Monday was the sixth day of debate in the Senate over the START treaty. President Barack Obama's Democrats believe they have enough votes to ratify the treaty. The pact would restrict Russia and the US to one thousand five hundred and fifty deployed nuclear warheads. That's a cut of about 30 percent from a previous limit set in 2002. But several Republican Senators would like to delay a vote until next year and say Democrats are trying to rush a decision.
Related stories
Editor:Zhang Jingya |Source: CNTV.CN