Watch Video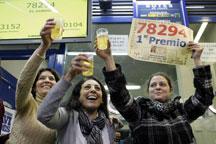 Play Video
Christmas is approaching. For many, it comes amid tough economic times. But in Spain, that's not enough to dampen the holiday spirit.
They're facing an economic crisis and tough austerity measures.
But Spaniards aren't letting financial worries dampen their Christmas spirit.
The festive season in Spain wouldn't be the same without the traditional Christmas lottery.
El Gordo - or The Fat One - is considered the world's biggest lottery - giving out some 2 billion euros in prize money.
Tickets sales jump before the draw is made on December 22nd.
Spanish lottery player Daniel said, "If I win? It's not something I am really thinking about. I would be really happy when it happened and then I wouldn't know what to do."
For other Spaniards, Christmas is a time to forget financial concerns.
Madrid resident Monze said, "Christmas is not about money, it´s something else. It´s, I don't know family, excitement, hope."
Spain - the euro zone's fourth largest economy - was hit hard by the collapse of its property market.
The government has brought in pension reforms, tax rises and spending cuts in a bid to cut the budget deficit and get the economy back on track.
But Spain's borrowing costs have risen sharply recently and there are fears that it could be forced into a Greek or Irish style bailout.
The Organisation of Economic Co-opeartion and Development - the OECD -said in a report published on Monday that Spain is broadly on track to meet its 2011 deficit target.
Pierre Beynet, OECD Division Chief, said, "We recommend that the government takes all necessary action to go beyond what was planned if economic growth deteriorates faster than forecast, which means of course that the government should not hesitate to increase taxes if that's necessary.''
Even if the outlook is mostly upbeat - Spain's economic situation will remain tough for some time - and unemployment will remain high.
So many will hoping for some Christmas luck when El Gordo is drawn.
Editor:Zhang Jingya |Source: CNTV.CN