Watch Video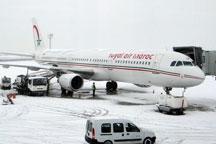 Play Video
Bad weather in Europe has also made a deep impact worldwide. Many passengers trying to get to the region are facing delays.
Thousands of Australians travelling to Europe this festive season are still hoping to get there by Christmas Day.
European tourists heading home are also keeping their fingers crossed as flights to the continent resume.
A European traveler said, "I have a wedding to get to actually, so I don't know if I'm going to make it in time."
But while the airlines appeared unfazed, passengers were concerned that further storms could bring them delays in stopover cities.
Heavy snow and frigid temperatures continue pummeling major countries in Europe.
British Airways says the arctic conditions will continue to cause major disruption
to its operations, while Eurostar is trying to soothe stranded passengers. French
civil aviation authorities also asked airlines to reduce their flights.
A German traveler said, "I want to go to Frankfurt. I hope it will be possible because I heard there will be much snow in Europe, especially in Germany,"
The bad weather may not be over yet. But a spokesperson for Australia's Qantas Airlines, Olivia Wirth, said the airline was working hard to clear any backlog of passengers in the UK and across the Asian ports.
Related stories