Watch Video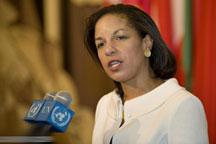 Play Video
The UN Security Council has unanimously adopted a resolution renewing its peacekeeping mission in Cote d'Ivoire for six months. The extension comes amid international concern over instability in the country caused by a presidential election in November.
The UN says more than 50 people have been killed in recent days, and hundreds of people have been abducted by armed assailants. The UN's Cote d'Ivoire operation has also reported attacks on UN patrols and on its headquarters.
The UN Security Council on Monday called on the country's residents to exercise restraint, as the political situation in Cote d'Ivoire continues to deteriorate.
Susan Rice said, "The members of the Security Council urge all Ivorians to exercise maximum restraint, remain calm, resist provocative actions, refrain from violence and work together to restore sustainable peace."
The Council condemned in the strongest terms acts of violence against both civilians and peacekeepers throughout the country. It also expressed its alarm over reports of civilian casualties.
Cote d'Ivoire is going through a political crisis, as two different candidates, Alassane Ouattara and Laurent Gbagbo, were both sworn in as president after the November 28th runoff election.
Both Gbagbo and Ouattara claim to have won the election and have set up parallel governments in the city of Abidjan, resulting in escalating tensions and violence.
The UN recognizes Outtara as the winner and has called on Gbagbo to step down. It urged all Ivorian parties and stakeholders to respect the will of the people and the outcome of the election.
Related stories
Editor:Zhang Jingya |Source: CNTV.CN