Watch Video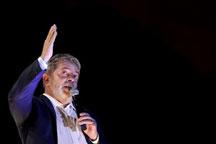 Play Video
Brazil's outgoing President Luiz Inacio Lula da Silva says he might eventually run for the top job again. His words, from an interview aired on Monday, have shaken up Brazilian politics and could weaken his successor Dilma Rousseff, just two weeks before she takes power.
Lula is set to leave office on January 1st with a popularity rating above 80 percent. He's forbidden by the constitution from running for a third consecutive presidential term this year. In his eight years in power, Lula was a driving force in raising Brazil's profile internationally, and helping bring national prosperity to Latin America's biggest economy.
Rousseff, elected in October, is set to become the country's first woman leader. She has vowed to continue Lula's policies, though she faces challenges from a fragile global economy, rising inflation and infrastructure unable to keep up with Brazil's growth of over 7 percent.
Editor:Zhang Jingya |Source: CNTV.CN