Watch Video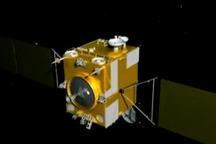 Play Video
The Chang'e-2 satellite successfully made it through the extreme environment from the total lunar eclipse.
Due to the huge shadow that blocked the earth, Chang'e-2 temporarily turned to its batteries for power. During the total lunar eclipse, Chang'e-2 was forced to cope with extremely cold temperatures for more than three hours.
The data collected by the satellite was transmitted to earth before the devices were temporarily shut down. And there was no further data transmission during the eclipse. Devices on Chang'e-2 will be restarted at the appropriate time after the end of the lunar eclipse.
Pictures: Lunar eclipse seen in Guinea, U.S.
The Moon is almost fully eclipsed at 0221 a.m. EST (0721 GMT) in Great Falls,
Virginia just outside Washington December 21, 2010 during a lunar
eclipse. (Xinhua/Reuters Photo)
Editor:Zheng Limin |Source: CNTV.CN