Watch Video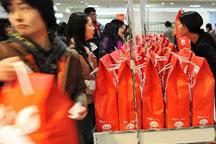 Play Video
Every country has its own traditions for celebrating the New Year. Japan has one unique tradition, as many people rush to try out their New Year luck - in shopping malls across the country. Terrence Terashima visited department stores in Tokyo and Yokohama to find out more about the "Lucky Bags" that are on sale.
Along queue of people lined up in front of a prestigious department store in Yokohama. A sight, not uncommon in front of major stores all over Japan every New Year.
This department store alone said to have 200,000 customers on the first opening day, every year.
The shoppers are after a "Fukubukuro", a lucky bag.
A bag full of assorted goods which one buys without knowing what is inside.
And if you are lucky, the items are worth more than what you have paid for.
One shopper said, "The Fun thing about lucky bags is that you don't know what you bought, and enjoy sorting through the prize of the day"
The price of these bags ranges anything from 10 dollars to thousands of dollars.
Popular bags of brand clothes and accessories were sold out with in minutes. Even Kimonos worth 2,000 dollars were sold out within 15 minutes.
"I think I spent just over 200 dollars this year", Shopper said.
And some spend even more.
Matsuya Ginza, packed goods specifically for young fathers raising a small child. It even includes tickets for men's cooking classes.
Satoshi Noguchi, Sales Promotion, Matsuya Ginza, said, "I think this year, all the stores are adding something extra like tickets and food coupons in the bags. We have made a good range of fun lucky bags to satisfy all sorts of customers."
Matsuya said they have prepared 1,000 different assortments. And some department stores offer big prizes like Antarctic cruises and the newest cars.
For example, Takashimaya department store in Yokohama offers this chance to buy Nissan's new electric vehicle "Leaf" for less half the market price.
Recession or not, tradition of lucky bags seems to attract thousands Japanese shoppers, giving the first boost to consumer spending in the New Year.
Editor:Zheng Limin |Source: CNTV.CN