Watch Video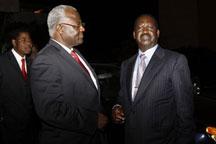 Play Video
Senior African leaders have held talks with Cote d'Ivoire's incumbent president Laurent Gbagbo, in an attempt to persuade him to step down.
It's their second visit in less than a week, following the disputed presidential election more than a month ago.
The presidents of Benin, Sierra Leone and Cape Verde, were joined by the Kenyan Prime Minister Raila Odinga. The group met with Gbagbo on Monday, at the presidential palace in the capital Abidjan.
They are offering him an amnesty, which includes personal protection, if he cedes power to rival Alassane Ouattara. Ouattara is widely recognized as the winner of November's presidential election, and is currently under UN protection at a hotel in the capital.
No outcome of the talks have so far been announced, but Kenya's Prime Minister spoke to journalists, describing the meeting as useful.
Raila Odinga, Kenyan Prime Minister, said, "We came here as a joint delegation of African Union and ECOWAS in order to have dialogue with a view to resolving the crisis of the Cote d'Ivoire. We have met with his excellency Laurent Gbagbo and we are now going to have a meeting with Mr Ouattara and there after we will issue a press statement."
The Economic Community of West African States previously said it would use force against Gbagbo, if he refused to stand down. But its Cote D'Ivoire representative says discussions are ongoing, and no such ultimatum has been issued.
So far, Gbagbo has rejected all demands for him to go. And he is calling on UN peacekeepers to leave the country, accusing them of wrongly backing his opponent.
More than 170 people have been killed since the start of the post-election standoff, threatening to re-ignite conflict in a country still divided by a civil war 7 years ago.