Watch Video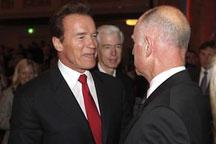 Play Video
Jerry Brown has been sworn in as California's 39th governor, taking over from Republican Arnold Schwarzenegger.
The 72 year old democrat becomes only the second person to serve a third term as governor of the sunshine state.
Brown inherits a huge budget deficit on taking office, and faces several economic challenges over the coming year.
He says California's 38.8 million people face some painful choices. Outgoing governor Schwarzenegger served two terms, since his bold switch from movie star to politician in 2003.
His major achievement was to pass a law reducing greenhouse gas emissions in the state to 1990 levels by 2020.
Related stories