Watch Video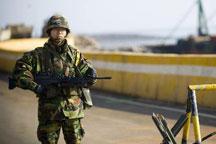 Play Video
The Democratic People's Republic of Korea says if South Korea were to drop hostilities towards the North it would work to improve relations between the two. The DPRK's Rodong Sinmun newspaper conveyed the message in an article on Tuesday. The article also said the South must respect the sovereignty and dignity of the North.
In the second such article this week, the DPRK said it has the right to decide its own diplomatic policies and handle its own problems.
It also stressed peace on the Korean peninsula is crucial for developing the country.
The article said the DPRK opposes any plot to provoke a war and the two lcountries need to see beyond their differences to improve relations.
On new year's day, three state-run DPRK media outlets, issued a joint New Year's editorial. It emphasized inter-Korean dialogue and cooperation must be pushed forward.
Pyongyang's position and commitment to a nuclear-free Korean Peninsula and peace remain unchanged.
Meanwhile, South Korean Yonhap news also sent messages to the DPRK. It said the South Korean government will propose conditions for resuming the six-party talks through inter-Korean dialogue.
It said in order to start the long-stalled negotiations, the DPRK will have to discuss nuclear issues with South Korea and show its genuine will for de-nuclearization through action.
The report came after South Korean President Lee Myung-bak voiced support for reopening the moribund talks, last held in December, 2008. The support was an apparent about-face from his previous opposition to resumption of the talks.
Related stories
Editor:Zheng Limin |Source: CNTV.CN