Watch Video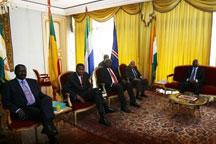 Play Video
African mediators in Cote d'Ivoire have left Abidjan after talking with both sides involved in the political stalemate. They offered defiant President Laurent Gbagbo amnesty on condition he cede power peacefully to internationally recognized Alassane Ouattara. Gbagbo has so far refused to concede despite widespread international condemnation and the threat of force to oust him.
Four leaders representing the Economic Community of West African States, or ECOWAS, and the African Union urged Gbagbo to give up the presidency. They also want him to acknowledge UN-certified results which show he lost the election.
ECOWAS says it could use "legitimate force" if Gbagbo refuses to go quietly and a spokesman for Ouattara's rival government says this will be Gbagbo's last chance to step down peacefully and with immunity.
Raila Odinga, Kenyan Prime Minister, said, "We came here and have joined the mixed delegation, of African Union and ECOWAS to try and initiate a dialogue to resolve the crisis in Ivory Coast."
Gbagbo vowed not to step down in his New Year's message to the nation.
The pro-Gbagbo constitutional council reversed Ouattara's win by canceling hundreds of thousands of votes in Ouattara strongholds, alleging fraud.
The US and EU imposed a travel ban on Gbagbo and his inner circle, while the World Bank and the regional West African central bank have frozen his finances in an attempt to weaken his grip on power.
It was the second visit by three west African heads of state. One of the envoys says talks will go on.
Editor:Zheng Limin |Source: CNTV.CN