Watch Video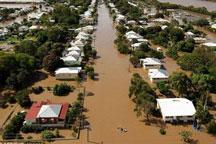 Play Video
Now let's turn to northeast Australia's state of Queensland, where one of the country's largest aircraft have been deployed to help transport supplies to flood-stricken Rockhampton. Communities throughout the region are also facing a food crisis.
In Rockhampton, one of the worst hit towns, water levels are still rising, with the town of 75-thousand bracing for the floods' expected peak in the next 24 hours. Authorities have warned residents to stay out of floodwaters for their own safety, saying the biggest risk is from fast moving currents powerful enough to sweep cars from roadways. Floating debris, snakes, and even crocodiles could also pose a danger.
Luke Foster, Australian Defense Force, said, "There are about thirty thousand pounds worth of stores and essential supplies on that aircraft. In that aircraft, there are basic and essential supplies including toilet paper, nappies, baby formula and milk powder and the like. And that will continue on for the next two days."
Brad Carter, Rockhampton Mayor, said, "There is a suggestion that this may remain at the peak, whatever that peak is, for a period of up to two days. Then as it starts to drop and flatten out, it's likely to be about ten days or so that it could stay at the, or up to ten days, at about the 8.5 meter mark, which indicates that we will have significant water inundation for the best part of nearly up to another two weeks."
Editor:Zheng Limin |Source: CNTV.CN