Watch Video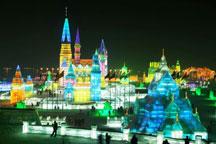 Play Video
As temperatures fall across China, the northeastern city of Harbin is gearing up for the 27th internationally acclaimed Ice and Snow Festival, which gets underway Wednesday. With many sculptures already finished, our reporter Ma Zechen brings us a sneak preview of this chilled out gathering.
Night falls, and the lights come on. They may not be stronger than sports stadium fixtures, but they shine brightly as the heart of these delicate artworks. Under their radiant glow, these cubes of straight and curved lines spring to life. Here in this small downtown park, visitors from different places can share the same admiration. The cold doesn't seem to lower their interest at all.
The polar temperature creates a stellar atmosphere around this form of art, which is now a calling card for the capital of Heilongjiang Province. Over the next month, a large range of activities will be held, attracting a huge number of visitors from all over the world. The city has promised not to let anyone down, regardless of whether they live nearby, or far away.
Don't rush and be patient ... That's the message from organizers ... As the main event will begin in just a little more than 24 hours. They stress that visitors will be able to see a lot of sights at their own leisurely pace, saying Harbin stands ready to welcome everyone full of passion for all things winter, and no one should be disappointed.
Editor:Zheng Limin |Source: CNTV.CN